What materials are used in car manufacturing

Updated 11 Oct 2019
Jason Unrau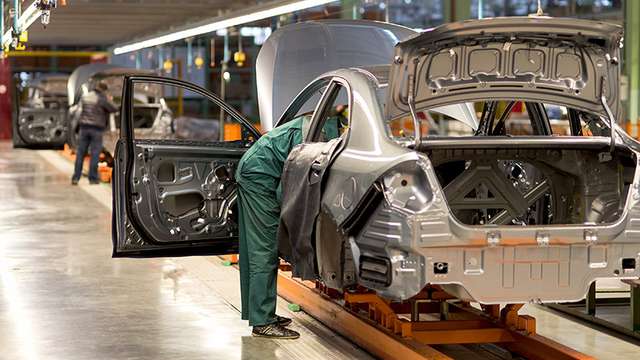 New car prices can be uncomfortably high, especially if you're looking at luxury brands.
But contrary to your suspicion, they're not made of pure gold. From bumper to bumper, there can be more than a dozen materials used in a fully assembled car.
Check out this list of common materials used in car manufacturing, and where you can find them.
STEEL
No surprise here. Steel is the main material in many major car components.
From the engine block to the chassis as well as body sheet metal, hinges, bolts, screws, and rivets, you'll find steel from one end of a car to the other.
It's a low-cost, easily sourced material that's used for strength and holding its shape well.
ALUMINIUM
Today's cars use aluminium more than in the past.
You'll find aluminium in body panels for some modern cars, radio chassis, many wheels, window regulators, and much more.
Engine components may be aluminium as well because it's lightweight and can disperse heat very well.
RUBBER
Besides the obvious use in tyres, rubber is found in other parts of a car.
Engine belts, for example, are made of reinforced natural and synthetic rubber, as are cooling system hoses.
Rubber is also used for wiper blades, gaskets and seals, and engine mounts.
GLASS
Naturally, car windows and windscreens are made of tempered glass.
It's not the only use, though, in the automotive industry.
Some radio displays, headlight and indicator bulbs, side and rear-view mirrors, and even headlamp assemblies can use glass.
COPPER
The miles and miles of wire strung through a car are virtually all copper core.
It's an extremely efficient conductor of electricity.
There are also copper coils in the alternator and starter motor, as well as in many electronic control modules and switches.
COTTON
You might be surprised to hear that cotton isn't commonly used in upholstery.
It is, however, used in several other places. Belts and hoses are reinforced with strands of cotton, and tyres can also have cotton strands for strength and to hold shape.
SILICON
Silicon, not silicone.
For the dozens of computer modules in a car today, the processor chips use this natural material because of its amazing use as a semi-conductive element.
There might not be much of it in a car by weight, but it's mighty important.
GOLD
Yes, there is a small amount of gold in your car.
Electronics and computer connectors often use gold plating to aid in making a good connection.
It's not worth trying to melt your car down for it – it's probably less than a gram or two.
PLATINUM
Another precious metal in your car!
Platinum is one of the catalyst materials in the catalytic converter.
On average, a catalytic converter holds about 3 to 7 grams of platinum.
PLASTICS
Bumper covers, dashboards, steering wheels, gearshift consoles, body mouldings, wiring loom, radio faces, and instrument clusters all use plastic in various forms.
But it doesn't stop there.
Car upholstery from carpets and door panels to car seats are manufactured with materials made from plastic strands.
LEAD
No lead-based paint was used to make your car.
It is, however, used for wheel balancing weights as well as in car batteries.
LEATHER
It's not just for luxury cars.
Leather is used to wrap dash panels, gearshift knobs, steering wheels, and yes, leather-upholstered seats too.
Now that you're across what your car is made of, are you sure that it's running healthily?
AutoGuru has made it super easy to search, compare and book local, high-quality mechanics online.
You can get yourself booked in for a service or inspection in just minutes!

Jason is a Canadian automotive content writer with a background in the auto service industry, but he's been hooked on cars and mechanics since childhood.
One of his first cars was an '80 Mazda RX-7 that's sorely missed to this day. A '68 Ford Torino GT, a '66 Ford Country Squire Woodie station wagon, and a '96 Suzuki GSX-R 750 have spent time in his fleet of cars, bikes, and trucks over the past two decades.
Jason's pride and joy is under construction – a turbocharged '88 Mazda RX-7 convertible. Also on his resume is CASCAR official certification.