Rear window replacement
from $402
Get quotes from independent specialists near you.

Australia's #1 booking site for car services & car repairs
Book now, pay later Interest-free payments
Transparent prices no surprises
Rear window replacement
*Available at select service providers. T&Cs apply.
Average rating for Rear window replacement
starstarstarstarstar
4.9 • based on 292 reviews of 53 businesses
Rear window replacement
The purpose of a rear window

The rear windscreen of your vehicle does more than just allow you to see what's behind you while you're driving.
It protects your interior from the elements, makes the car look stylish and provides structural integrity to the vehicle in the case of an accident.
It does have to put up with the harsh UV from the sun, as well as dirt and debris that gets thrown at it day after day, so damage to the window is almost inevitable. When the worst happens, AutoGuru will come to your rescue.
If you don't have glass cover as part of your insurance, you could be looking at $250 and up for a rear window replacement.
For some vehicles, this can reach $800 and above depending on the make and model.
What is a rear window?
You may think that the rear window is just a piece of glass that allows you to see out the back of your car, but it is much more than what it seems.

It is a key structural integrity component, and any damage to it will reduce its ability to protect you and your family in the event of an accident.

The rear window is usually made from tempered glass, which is heated and cooled multiple times to increase its strength and safety aspects.

If it is damaged, it is designed to break into thousands of tiny pieces that are less sharp than the large shards a normal piece of glass would create when broken.

It also has a heating element built into it, to allow for demisting of the glass when the temperature outside is less than in the car.
Signs your rear window needs to be replaced
Any cracks or chips in the glass: One of the most common problems, which can be caused by a wayward rock or other debris.

Rear window demister not working: the little orange lines on the rear window are part of the demister system, and if they break away or fail, most of the time a new rear window is required.

Shattered or completely broken rear window: This is stating the obvious, but if the rear window is shattered or completely broken, it's time to have it replaced ASAP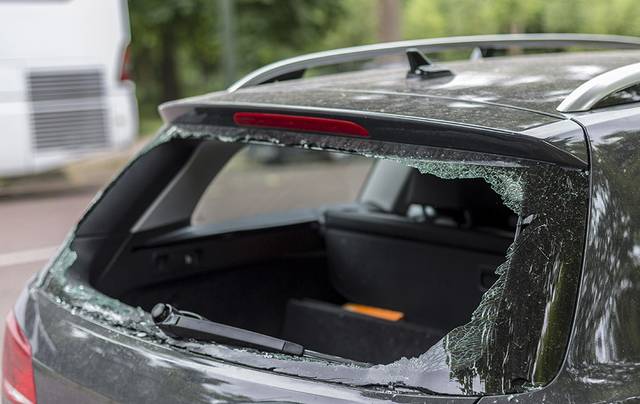 How is the rear window replaced?
The glass technician will remove the rear wiper blade (if fitted) and the inner rear trim to allow complete access to the window
The demister will be disconnected from the tabs
The rear sealant will be cut and the rear window will be removed
The old sealant will be cleaned up, and a new bead of sealant applied to the window frame
The new rear window will be secured in position
The removed trims and wiper blade will be refitted, and the demister reconnected to the tabs
The rear window will be secured with tape while the sealant sets, and the demister and wiper will be tested for correct operation
Tips to remember
As the rear window is a key component in the structural integrity of the vehicle, a broken or damaged rear window should be replaced as soon as possible.


Always have an approved auto glass technician carry out the replacement of your rear window, to ensure correct fitment. This will avoid potential water leaks, wind noise and other fitment issues.
How important is replacing your rear window?
Having a clear view of what is behind you is an important part of day to day driving, but have your vehicle's safety features working at their optimum is another reason to have your rear window replaced as soon as it becomes damaged.

It will also keep your belongings safe and out of the weather and harsh elements.