The 10 Best Mechanics in Adelaide
Updated 5 Feb 2020
AutoGuru
Meet Adelaide's TOP 10 highest-rated mechanics
Let's face it, most of us don't know everything there is to know about our cars mechanical well-being, and who can blame us?
Becoming a fully qualified mechanic takes years of hard work and constant training.
That's why today, we're here to recognise the Top Mechanics in Adelaide.
In 2019, AutoGuru partner mechanics in Adelaide quoted over $7 million worth of services and repairs for AutoGuru customers, to help them better care for their cars.
We're here to recognise the Top Mechanics In Adelaide, who went above and beyond in 2019 to consistently deliver amazing service experiences to their customers.
Average star rating in 2019 - 4.9
Congratulations to Aldershot Service Centre for being recognised as Adelaide's highest-rated mechanic in 2019! This is the second year in a row Aldershot has claimed the top spot!
Aldershot Service Centre is a family business with extensive experience in servicing & repairing modern vehicles.
It is their goal to address the customers needs and to help them get what they need out of their car, whether it be air conditioning, brakes or suspension, Aldershot Service Centre specialises in them all!
Ben, with over 20 years experience, leads the team of fully qualified mechanics to ensure your cars remains well serviced and reliable into the future.
Aldershot was rated an average of 4.9 stars by their AutoGuru customers throughout 2019, with customers have had some great things to say!
"Excellent service and follow up call. Dropped the car in at 9 am and was able to pick it up at 1 pm. Ben called and explained what needed to be done in the future and gave me honest feedback on future work to be carried out when able. Highly recommend this team." - Emmanuel, October 2019
Average star rating in 2019 - 4.9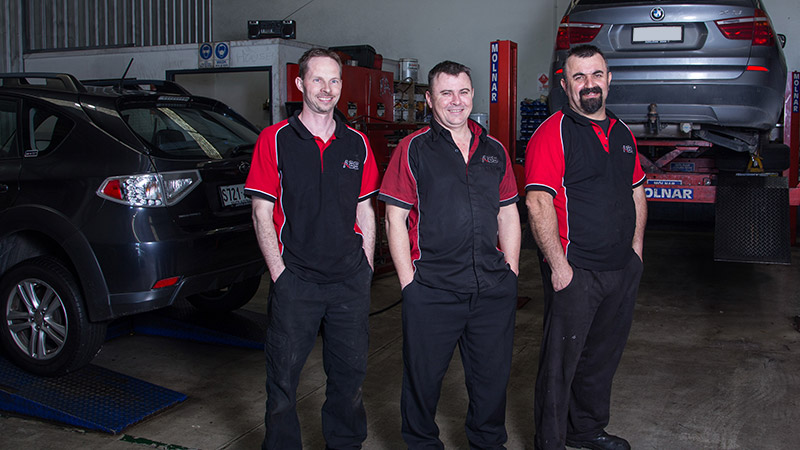 Daniel and his team of qualified mechanics at ABS Melrose Park can look after your vehicle's logbook servicing and repairs from Monday to Saturday!
With convenient access to bus stops and key local locations, getting your auto needs completed at ABS Melrose Park is super easy!
They've been in operation for over 20 years and have 4 qualified mechanics on hand. For peace of mind, all services, repair and parts come with a 6 month / 10,000km warranty!
In 2019, AutoGuru customers rated ABS Melrose Park an average of 4.9 stars, how good is that! Check out one of their reviews below.
"Well presented workshop and reception. Mechanic was polite, friendly and clearly knowledgeable which inspired great confidence. Works were completed earlier than anticipated too! Will recommend to others!" - Dan, January 2019
Average star rating in 2019 - 4.9
Are you looking for tyres and tyre repair services in Port Adelaide?
At Bridgestone Select Port Adelaide you'll find an extensive range of quality tyres, including car tyres and 4x4 tyres, complete tyre services and auto repair services, including tyre-fitting and wheel alignment.
They pride themselves on providing outstanding customer service and advice.
They also do Auto Services! Whatever your make or model, book your next service with one of their qualified technicians.
Justin and the team can help with anything from servicing to brakes, suspension, batteries and other repairs!
They'll go out of their way to make sure your car performs at its best and ensure that you leave completely satisfied.
In 2019 they received an average rating of 4.9 stars, and received some great feedback from customers.
"Went in for a 90,000km service, was looked after really well and was a pleasant experience throughout. Was called about further emerging work that was required and issues were explained in understandable terms, was also provided quotes and advice at the time. I would recommend based on my recent experience and will be returning for future work." - Daniel, March 2019
Average star rating in 2019 - 4.8
Auto Boss SA is a South Australian family-owned business with over 50 years of combined experience in the vehicle service industry.
They service all makes and models & provide a one-stop-shop for all your motoring needs.
Joe and the team pride themselves on honest, quality work & don't compromise on cheap parts to do your job.
All required work is explained prior to commencement & a comprehensive written report is provided on completion.
With a 4.8 star rating on AutoGuru, you'll be sure to have a great service experience at Auto Boss SA, just like this customer!
"Fantastic service. Excellent advice and very friendly. I was advised prior to any additional work and provided a good understanding of what was happening. My vehicle was also ready earlier than I had requested which was great. Will be returning and recommending." - Kat, December 2019
Average star rating in 2019 - 4.8
The team at Skipper Automotive have a clear focus, and that's to provide exceptional servicing and repairs with honesty and integrity.
They're out to make their customers feel like family, so there's no surprise they were so highly-rated by their customers on AutoGuru in 2019, receiving an average of 4.8 stars!
Conveniently located in Kent Town, it's never been easier to get your car serviced or repaired in Adelaide!
Check out this great review for Skipper Automotive.
"Michael explained what is needed well. He helped me prioritise what was urgent and what could be put off until later, thus helping me budget for repairs." - David, November 2019
Average star rating in 2019 - 4.8
B & R Automotive is a local, family-owned business that understands their customer's time is precious.
Offering flexible servicing times (including Saturdays), B&R Automotive work around you!
They offer roadworthy inspections, perform general servicing as well as logbook servicing and all mechanical repairs.
They also offer the best prices on tyres and wheel alignments!
With a complimentary drop off service or loan car, B & R Automotive is a team you can trust. They take the hassle out of getting your car serviced.
In 2019, AutoGuru users rated B & R Automotive an average of 4.8 stars. How good! Check out this awesome review.
"Great experience, Awesome communication. Any issues with my car were discussed with me before any actions were taken. And my car finally has stopped making horrible noises while braking in reverse, very thankful." - Catherine, July 2019
Average star rating in 2019 - 4.7
James and Kylie of Stewart Mechanical Services are a friendly, local, family-based mechanic business, located just off Curtis Rd on the corner of Samuel Street and Palina Road, Smithfield 5114.
They offer major, minor and logbook services, automotive A/C regas and repairs as well as mechanical repairs for large and small cars, trucks, trailers, cranes, earthmoving and most other large equipment and machinery, all at competitive prices.
Stewart Mechanical Services believes that by treating customers the way that they would expect to be treated proves that personal and important service aspect.
With over 16 years of experience, your car will be in safe hands with James and Kylie. Check out this great review!
"Totally thrilled with the service & caring from this family business. I would recommend them to anyone who requires a professional mechanic. I feel so comfortable in dealing with them because they understood the stress I was going through. Thank you guys." - Patricia, November 2019
Average star rating in 2019 - 4.7
Kon leads a team of qualified mechanics at ABS Auto Service Centre Adelaide who can look after your vehicle's logbook servicing and repairs. Everything from brakes, clutch, suspension tires and general under-car repairs can be handled by ABS Adelaide City.
They specialise in all European brakes, saving you hundreds of dollars on brake repairs. They are even able to refurbish old brake parts for your old classics!
They've been in operation for over 12 years and offer a 6 month/10,000km warranty on all work.
On average, they received 4.7 stars from their AutoGuru customers in 2019, now that's impressive! Check out one of their great reviews below.
"Had an excellent experience at ABS. The guys were able to sort out the issues with my brakes, and kept me in the loop so that there were no surprise charges at the end. I received my car back in top condition, and they even vacuumed and washed it! I definitely recommend this place, and will be coming back again next time." - Jennifer, April 2019
Average star rating in 2019 - 4.7
SM Auto Repair Centre offers a fixed price service with free vacuum and computer scan.
They offer everything from basic and logbook servicing, minor and extensive car repairs and general maintenance.
Max and the team pride themselves on the affordable, high-quality work they provide.
SM Auto Repair Centre has received an average rating of 4.7 stars on AutoGuru in 2019, and you can tell customers love getting their car looked after by the crew there.
"Very friendly and knowledgeable mechanics. Took the time to discuss my car and advised that there were no issues to fix, which is always nice to hear from - very honest workshop. Advised they would switch my tyres around next service to get more life out of the tyres and definitely went the extra mile by vacuuming the car. I have found my new mechanic for sure!" - Andy, May 2019
Average star rating in 2019 - 4.5
ABS Salisbury rounds out our Top Mechanics in Adelaide list for 2019. They've been in operation for over 10 years, and they definitely know their stuff!
They can carry out a wide variety of servicing and repairs, all accompanied by a 6 month/10,000km warranty for that extra peace of mind.
With 9 service bays and 5 qualified mechanics on hand, ABS Salisbury can easily attend to all your auto needs.
Based on this customer's 5-star review, they deliver a great service!
"Was my first time using ABS, will definitely return for my next service. Checked before doing any extras. Had the car back in good time. Happy with the price." - Tyrone, May 2019
Our Top Mechanics in Adelaide is done for another year! Can't find an awesome mechanic on this list that's close to you? No worries.
Compare pricing, read reviews and book a range of other Adelaide mechanics on AutoGuru.
All data recorded January 2nd, 2020.
AutoGuru is Australia's largest online marketplace for booking automotive services.
We've got a passion to remove the stress, hassle and ambiguity from booking automotive servicing and repairs, both for the mechanic and the motorist.