FleetGuru - AutoGuru's Fleet Maintenance Platform

Updated 1 Aug 2023
AutoGuru
AutoGuru has developed FleetGuru, a SaaS platform which allows FMOs and corporate fleets to fully digitise and automate service and repair management.
"Our mission is to optimise fleet quoting, approvals, and supplier payments to cut costs and improve efficiencies for fleets and service providers alike" says Eden Shirley CEO of AutoGuru.

"Our SaaS enables our network of 8,700 OEMs, major groups, and independent repairers to submit fleet work to a growing number of fleets via a digital portal."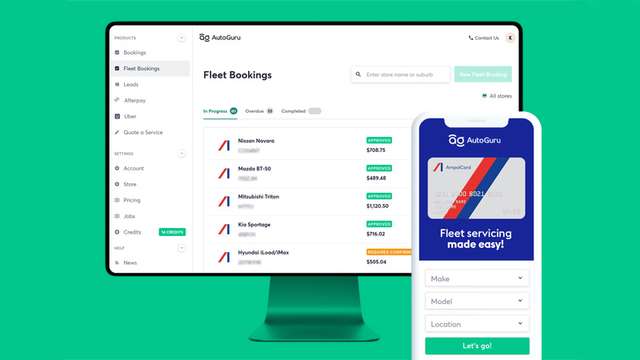 Powered by AutoGuru's unique quoting technology which uses OEM service and repair times to build quotes, AutoGuru can automate and streamline approvals, ensuring they are approved and paid faster.
FleetGuru enables FMOs and corporations to significantly reduce costs and human resource requirements by digitising fleet maintenance management.
What are the key benefits to FMOs and corporate fleets?
Improved pricing consistency and structure


Thanks to the digitisation of the quoting process using structured data and pricing, accuracy and transparency are greatly improved. This means less discrepancies and faster authorisation times.



Reduced costs and resource expenditure


Jobs can be analysed and auto-approved if they match expected parameters. Through automation of repetitive manual tasks, FleetGuru delivers a higher volume of fleet approvals with fewer human interactions resulting in cost savings for FMOs and corporations. 



Simplified payments and processing


FleetGuru makes payments to service providers easy with consolidated billing to FMOs and corporations, reducing the pain of mismatched invoices. We also allow fleets to pay service providers, the choice is theirs.
What makes FleetGuru unique?
FleetGuru has been purpose-built to address major concerns in the fleet management industry.
It's no secret that vehicles are becoming increasingly complex. This, paired with the lack of digital adoption, results in a huge reliance on human resources to approve maintenance and repair requests.
When a service provider needs to approve work, they seek authorisation by calling FMOs. This process is labour-intensive, inefficient, hard to scale and prone to human error.
Additionally, experienced fleet controllers with technical experience are difficult to recruit and retain.
FleetGuru provides a solution that addresses all of these concerns. Our structured data, based on millions of real service and repair quotes, means accurate pricing, efficient processes and quick approvals, all whilst providing cost-saving benefits to FMOs and corporations.
FleetGuru's quoting technology incorporates an adaptive learning engine called the Maintenance Intelligence Engine (MIE). MIE's core objective is to give fleet managers X-ray vision on costs.
MIE's parts intelligence engine analyses millions of pricing inputs to deliver predictive parts pricing personalised to each service provider and capable of prepopulating quotes.
The same technology provides fleet controllers insights when service providers submit quotes that exceed MIE's expectations.
FleetGuru has already partnered with Ampol, Australia's leading fuel card used by tens of thousands of Australian businesses, Salary Packaging Australia, as well as a growing numbers of major FMOs, to help their customers access our network of over 8,700 auto repairers, and enjoy simple digital fleet maintenance experience.
In total, FleetGuru assists these FMOs and corporations in managing the Repair & Auth of over 130,000 vehicles online, and since launching the platform, 98% of service providers submit quotes online, completely transitioning traditional call-based approvals.
Our goal is to integrate all Australian fleets, enabling service providers to seek fleet maintenance authorisations and get paid faster through one central portal.
To find out more about FleetGuru and how it can benefit your organisation, visit www.autoguru.com.au/fleetguru or email fleet@autoguru.com.au.

AutoGuru is Australia's largest online marketplace for booking automotive services.
We've got a passion to remove the stress, hassle and ambiguity from booking automotive servicing and repairs, both for the mechanic and the motorist.