Mobile car battery replacement

Updated 27 Jan 2023
Rowan Johnstone
A mobile battery replacement is a super convenient way to get a new battery for your car.
We all know how important car batteries are. Without one, your car won't go anywhere, enough said right?
Making sure your car has a healthy battery is pretty important, otherwise, you could find yourself stuck with a car that won't turn on!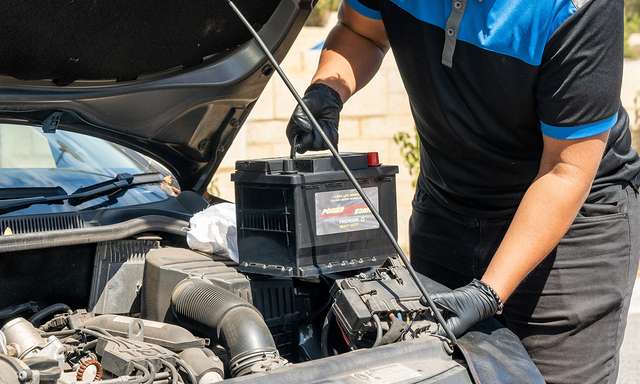 How to tell if your car battery needs to be replaced
Chances are that if you're in need of a new car battery, you're already having problems with your existing one.
Maybe your car is struggling to start or won't start at all? There's nothing worse than being stuck in your driveway or a car park when you have somewhere important to be!
If electrical components such as lights and radios start not working properly, that could also be a tell-tale sign your battery is on the way out.
What is a mobile car battery replacement?
Instead of having to go through the hassle of getting your car towed to a workshop to get a new battery, you can simply call up a mobile battery replacement service to come out to you and replace your battery on the spot!
You can get the convenience of at-home service, plus the peace of mind of knowing your new battery has been installed by a qualified professional.
Should a professional replace your car battery?
Well, replacing a battery on a modern vehicle could require the use of a memory minder, which is used to make sure the engine control unit (ECU) does not power down and reset while the battery is being replaced. This is a specialty piece of equipment that you're not likely to have in your own toolbox (if you have a toolbox).
Modern vehicles also often require an update or reset procedure to be performed after the battery has been replaced, again this is done by using a specialty piece of equipment (scan tool).
It's also worth noting that many new cars come with a stop/start feature that requires a special type of battery. Ensuring that the correct battery is fitted will make sure this feature continues to work on your car and avoids causing damage from an incorrect battery being fitted.
So how does a mobile car battery replacement work?
It's actually really convenient. Just find a mobile battery replacement expert online through AutoGuru and use our click to call feature to get in contact quickly and efficiently.
Then, sit back and relax knowing your car battery is about to be taken care of, and you did it in the most convenient way possible!
How much does a mobile car battery replacement cost?
This entirely depends on your car. Each car requires a different battery and it comes down to the amount of tech your car has to power, like whether it has a stop/start feature or not.
Thankfully, when you give a mobile battery expert a call and let them know what car you'll drive, they'll be able to recommend the best battery for you, and advise of how much it'll cost.

Written By
Rowan Johnstone
On weekends you'll probably find Rowan in the garage with his Dad restoring a 1958 Ford Star Model Customline or enjoying a cruise through the Gold Coast hinterland on his Suzuki GSX-R600.
Despite his passion for being behind the wheel (or handlebars), he looks forward to the day when he can commute to work in his own driverless car.