Top 3 shock absorber brands according to mechanics

Updated 10 Feb 2023
Rowan Johnstone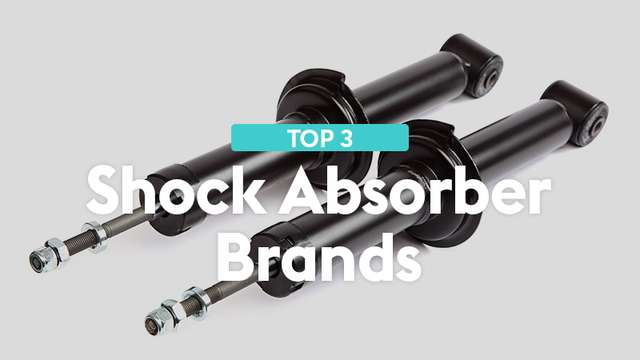 The suspension system is an extremely important part of your car. Without it, we wouldn't have the comfortable rides we have today.
However, the suspension provides much more than comfort. It can be tweaked or modified to become firmer, higher, lower or softer, depending on what you're trying to achieve.
A key part of your suspension is the shock absorber. The shock absorber's job is to control the movement of the suspension and make sure your tyres keep in contact with the road.
Because they're so important, when it comes time to replace them, you want to make sure that you're getting a quality brand fitted to your car. So how do you know which brands are the best?
To make it easy for everyday folk like us, we asked the expert mechanics on AutoGuru to tell us which shock absorber brands they preferred to use. These results are current as of February 2023.
1. KYB
KYB has been selected as the most preferred brand when it comes to shock absorbers, by AutoGuru's network of expert mechanics.
KYB is one of the largest manufacturers of shock absorbers in the world, supplying around 50 million shock absorbers a year, and that's just to vehicle manufacturers!
An impressive 1 in 5 vehicles worldwide leave the production line with KYB shocks installed.
With a resume like that, it's hard to deny that KYB is a top shock absorber brand, and mechanics on AutoGuru agree!
2. Monroe
In 2016, Monroe shocks proudly celebrated its 100-year anniversary. Throughout these hundred years, they've built a brand around their high-quality products.
Monroe also offers a 5 year/100,000 kilometre warranty on shock absorbers, which is great peace of mind for consumers and the mechanics that install them.
Monroe continues to innovate, with a mission to create cleaner, quieter and safer transportation.
3. Pedders
Pedders was founded in 1950 in Victoria and by 1964 was retrofitting shock absorbers specifically for use on Australian roads. In 1974, they were designing their own shock absorbers from the ground up.
Today, they export all over the world and are known for quality products, with an option available for most vehicles on the road.
Pedders promises to deliver "straight advice, specialists you understand and no bull", so it makes sense that mechanics on AutoGuru recommend this brand highly.
--
So now that you know which brands the mechanics use and recommend, the next time you're due for a shock absorber replacement, you've got three quality brands you can request.
If you're in need of a shock absorber replacement, get shock absorber quotes and book online with AutoGuru 24/7.

Written By
Rowan Johnstone
On weekends you'll probably find Rowan in the garage with his Dad restoring a 1958 Ford Star Model Customline or enjoying a cruise through the Gold Coast hinterland on his Suzuki GSX-R600.
Despite his passion for being behind the wheel (or handlebars), he looks forward to the day when he can commute to work in his own driverless car.