Top 3 brake pad brands according to mechanics

Updated 13 Feb 2023
Rowan Johnstone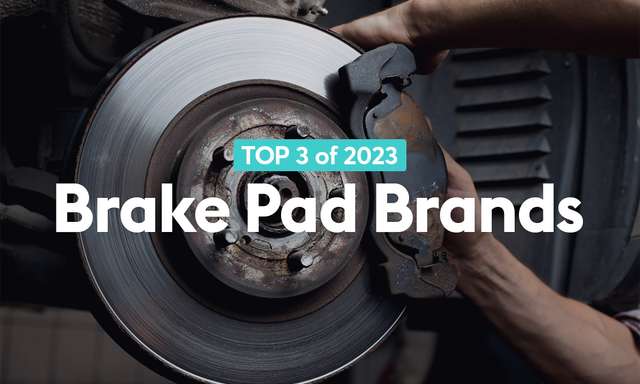 Front brake pad replacement and rear brake pad replacement are two of the most popular repairs being booked through AutoGuru.
Aussie car owners are churning through brake pads, but this comes as no surprise. It's a tough job constantly pulling up a car weighing 1.5 tonnes or more, but someone's gotta do it.
How many times have you booked your car in for mechanical work, such as brakes, and not really bothered, or known, to ask what brand of parts were being fitted to your car?
If your answer was 'a lot', don't stress, because you're not alone. It's something you don't really think of, and even if you did know, would it mean anything to you? Many of us can't tell the difference between X and Y brands, especially if we don't have any mechanical knowledge.
So here at AutoGuru, we thought, why not ask the experts? We know thousands of them!
And that we did. We asked auto suppliers on AutoGuru to tell us their preferred brands for mechanical parts they install every day!
So, if you're wondering what the best brake pad brands are in 2023, consider the opinion of the mechanical experts who fit them every day!
1. Bendix
For the fourth year in a row, Bendix remains the preferred brand for mechanics when it comes to brake pads.
A massive 85% of mechanics on AutoGuru identified Bendix as their preferred brand when it comes to brake pads.
Bendix has been around since 1955 and has been manufacturing brake pads since 1965. They have a manufacturing plant in Ballarat, Victoria where they make a huge range of brake pads.
The quality of Bendix has been recognised internationally, resulting in them exporting to many countries in South East Asia and the Middle East, as well as the United States, Canada and Japan.
So why do Aussie mechanics prefer them?
Some of the reasons include the fact that they don't squeal or give off much brake dust and that they give you a good feeling brake pedal. Mechanics on AutoGuru love knowing that their customers are getting quality parts.
They've also got a great range of quality products to suit all kinds of vehicles, so it's easy for them to source parts no matter what vehicle you drive. Check out what some of the workshops had to say!
2. RDA
RDA retains its spot as the second-most preferred brake pad brand for 2023.
RDA Brakes started in Melbourne in 1987 and offers one of the largest ranges of braking components across Australia and New Zealand.
Their brake pads were picked as the second most preferred brand by AutoGuru members.
It's hard to stand out after the overwhelming preference mechanics showed to Bendix, but it should be worth noting that RDA is still a very good brand that's focused on providing a great range of braking components with no exception on quality.
They provide brake pads for all kinds of vehicles including passenger, light commercial, large commercial, 4x4, performance and imports.
3. Repco RCT
Repco RCT rounds out the list as the third most-preferred brake pad supplier by AutoGuru members.
Repco RCT brake pads integrate multiple technologies, that have been specifically designed with Australian and New Zealand driving conditions in mind. With RCT Premium Ceramic Brake pads and RCT Extreme Brake pads developed for Passenger or heavy-duty vehicles, you can be sure you're getting the right fit for your vehicle.
So now that you know which brands the experts choose, hopefully, you'll feel a little more empowered to have a say on what parts are fitted to your vehicle.
Remember to ask the auto service provider to let you know what brands they use prior to starting work on your vehicle.
If you need new brake pads, you can search, compare and book local mechanics instantly online with AutoGuru!

Written By
Rowan Johnstone
On weekends you'll probably find Rowan in the garage with his Dad restoring a 1958 Ford Star Model Customline or enjoying a cruise through the Gold Coast hinterland on his Suzuki GSX-R600.
Despite his passion for being behind the wheel (or handlebars), he looks forward to the day when he can commute to work in his own driverless car.