What are car seat covers and how to choose the best one

Updated 22 Mar 2023
Rowan Johnstone
When we think car protection, things like paint protection, insurance, regular servicing and parking as far away as possible from other cars in the carpark are often the first to spring to mind.
What about the inside of the car though?
Over time, your factory seats will begin to wear. Everything from dragging your body across them getting in and out of the car, to spilling all kinds of food and drink, to letting your furry best friend ride shotgun will slowly but surely destroy your seats.
You won't realise how bad it really is until you decide to either give your car a thorough clean or try to sell it. In both scenarios, discovering the true state of your seats can be a shock.
It doesn't have to be this way though… car seat covers are here to save the day!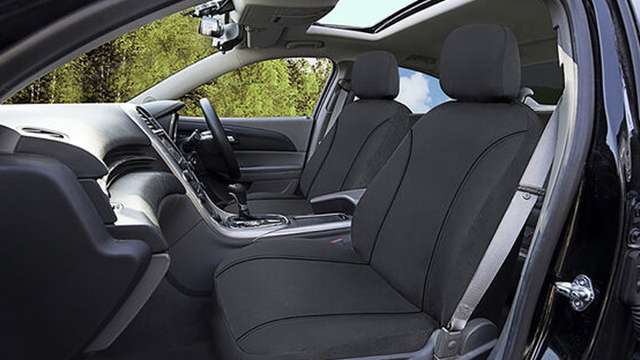 Seat covers are simple, and it's pretty much all in the name. They're covers that go over the seats of your car in order to protect them from physical damage.
The way that seat covers are designed also means they don't have to be a permanent addition to your car.
During the week you can simply slip the covers on to transport the kids to sport and the dog to the beach, then on the weekends, you can slip them right off to expose your nice protected interior to take your friends to that dinner party.
There are heaps of different styles and materials you can choose from in order to find the best fit for your car.
Neoprene, canvas, jacquard, polyester, sheepskin, leather-look, velour and even disposable plastic materials are all available in seat covers.
How to choose the best seat cover for your car
This depends on how you use your car. If you're someone who is always dirty, whether that be from work or play, you might want to opt for something like a neoprene or canvas cover, which are effective at protecting your seat from liquid, dirt and dust, and they're also quite tough. It also has the added benefit of protecting your seat from the sun when your car is parked outside.
Canvas seat covers are really suitable for protecting your pets favourite seat as well!
These seat covers come in heaps of different designs as well and won't diminish the look of your vehicle. Neoprene seat covers are also super easy to wash in the washing machine!
Leather-look seat covers may be best suited for cars with a leather interior to match, where you want to keep your factory leather seats in pristine condition. Whilst leather-look covers may show signs of wear quicker than some other materials, they are really easy to clean as they don't absorb anything! Ideally, they're not best-suited for hot climates as they can get quite hot and sticky.
Disposable seat covers are like any other disposable item. They're ideal for one-time use, and they're not meant to be pretty, but they are effective. They're usually made from a rough yet tough material and are best suited to applications such as camping trips where you're not worried about throwing the seat cover out afterwards or about how they'll look in your car. You simply just want to protect your seats for a short period of time.
For those looking to change up the look of their interior, they might opt for sheepskin or velour/suede seat covers. These covers are still tough and will protect your factory seats, but they can be a pain to maintain and clean as they'll absorb liquid.
Finding the best seat cover for you should be pretty simple. The main auto accessory retailers generally stock a whole heap of options, and there are even speciality businesses that can make you custom seats covers that will perfectly fit your car.

Written By
Rowan Johnstone
On weekends you'll probably find Rowan in the garage with his Dad restoring a 1958 Ford Star Model Customline or enjoying a cruise through the Gold Coast hinterland on his Suzuki GSX-R600.
Despite his passion for being behind the wheel (or handlebars), he looks forward to the day when he can commute to work in his own driverless car.