Pre Purchase Inspection With RAA

Updated 25 Jul 2023
Clancy Harrip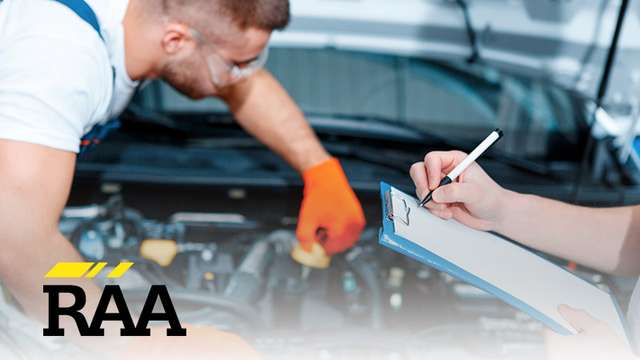 When considering a second-hand car purchase, there can often be a lot of doubt and anxiety regarding the state of the vehicle, especially if you are not mechanically inclined.
To avoid the stress often associated with car purchases, it's vital to understand the car's actual condition and having a pre-purchase inspection is a fool-proof way to achieve this. 
A pre-purchase inspection can vary anywhere between $200 to $450 depending on the vehicle size, age and the level of inspection.
Many mechanical businesses offer pre-purchase inspections as part of their services, so there are a great deal of options for the everyday consumer.
Pre-purchase car inspection with RAA
Established in 1903, RAA has a long history of servicing the South Australian motorist community.
And as advocates for vehicle safety, RAA has a team of qualified professionals ready to help you make informed decisions about your vehicle.
RAA's pre-purchase inspections are offered to all South Australian motorists, with RAA members receiving a 15% discount. A pre-purchase car inspection with RAA can be booked via telephone or online through their website.
What options are available with RAA?
Mechanical Inspection
Members' price from $283
RAA's mechanical inspection is a less comprehensive inspection than the Total Care inspection. Ideal for buyers who are looking to discover any mechanical issues.
This inspection Includes:
Cool system:

pressure testing, oil leaks and levels

Engine condition:

abnormal noises, oil levels & leaks, electronic cylinder performance, mounting and stabiliser bar condition

Electrical system:

lighting/trafficators, windscreen wipers/washers, window demisters, warning device, starter motor, battery condition, charging system, warning lights & gauges, speedometer, and engine tune performance/analysis

Transmission:

oil leaks, abnormal wear, operational during a road test

Wheels & tyres:

check for any

damage

Braking system:

check cables/pivots, brake lines, brake disc/drums & lining/pads, wheel cylinders and callipers

Suspension/steering:

suspension joints & pivots, shock absorbers, power steering, abnormal movement and noises in wheel bearings

Chassis:

check for damage and rust
Total Care Inspection
Members' price from $308
The Total Care Inspection is the most comprehensive pre-purchase inspection that RAA offers and additionally includes an over-the-phone consultation with an RAA technical advisor.
This inspection includes everything that the Mechanical Inspection offers however with the bonus of:
Operation of locks, latches & accessories

Check current/previous poor body/paint damage/repairs

Inspection of seat mountings and seat belt condition

Check the condition of window glass and mirrors

Check if the car has been written off, stolen or is under finance

Phone consultation with RAA technical advisor
RAA offers pre-purchase inspections from Monday to Friday 8:30am to 5:00pm, and Saturday 9:00am to 12:00pm.
If you would prefer to go with another option, you can use AutoGuru to compare a range of high-quality local mechanics and book your pre-purchase inspection entirely online. 
You're just a few clicks away from instant quotes, transparent prices and no surprises! 
All data gathered in July 2023. 

Clancy has been working in, and writing about, the automotive industry for half her adult life.
She loves her work and all things automotive and looks forward to the day she is considered a guru on the subject, an auto guru perhaps.