Five parts that should be changed during a clutch replacement

Updated 25 Mar 2021
Jason Unrau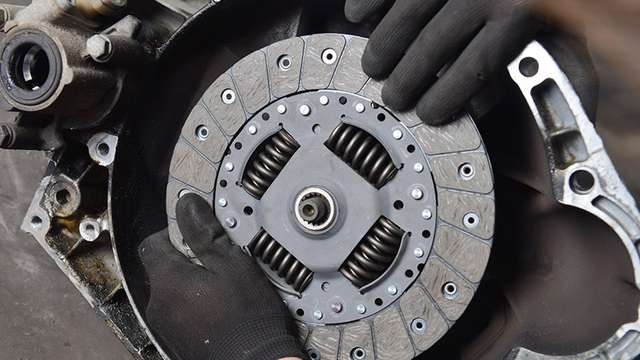 It's often thought to be the sportier way to drive. It's also thriftier to buy.
Cars with a manual transmission can be extremely enjoyable and engaging as you shift through the gears, plus they're often thousands of dollars less to purchase.
But a manual transmission has a common repair that you can't avoid – clutch replacement.
Depending on the model you drive, it could be 40,000km to 100,000km or more between clutch disc replacement intervals, but you can always count on it being necessary sooner or later.
When you're changing the clutch disc, there are other components you should take a look at replacing at the same time.
It could save you aggravation and money down the road.
Thrust bearing
When you depress the clutch pedal, the clutch fork engages the pressure plate with a thrust bearing, also known as a release bearing or throw-out bearing.
It lets the clutch spin freely while you change gears.
This rather rudimentary bearing takes a lot of abuse over time and can easily develop wear from rough use, lack of lubrication, and improper clutch adjustment.
For the small cost of replacing the thrust bearing, it's a great time to change it while replacing the clutch disc.
Pressure plate
Considering changing just the clutch disc in your car? You might want to reconsider.
Sure, you could take the cheapest repair but you're trusting the pressure plate will hold up for a second go-round.
The springy fingers on the pressure plate can bend, crack, or even lose tension.
When you're having your clutch disc replaced, seriously consider replacing the pressure plate as well.
Slave cylinder
The slave cylinder is a small hydraulic arm that presses the clutch fork.
It has one function: moving in and out as you press the clutch pedal.
You might not think it's a concern, but you put lots of faith in your slave cylinder's operation with every drive, and it will eventually leak or seize.
While the transaxle is out to change the clutch, have the clutch slave cylinder replaced as well.
It is an external part, so if you decide to put it off, it's not a big deal to change after the fact either.
Clutch fluid
The last thing you want while you're driving is for your clutch pedal to stick at the bottom when you press it down.
That can happen if your clutch hydraulic system has moisture in it and components corrode.
It's expensive to fix too. It's easy to prevent corrosion from the inside out, and it's through regular maintenance.
When you change the clutch disc, have the mechanic drain, refill, and bleed the clutch fluid between the master cylinder and the slave cylinder.
As well, change the fluid at its regularly scheduled maintenance interval.
Transmission fluid
Have you recently changed the fluid in the gearbox?
Manual transmissions, though extremely durable, still require proper lubrication and care.
During your clutch replacement, spend a few extra dollars having the transmission fluid drained and refilled.
It will help prevent gear noise and potential gearbox problems down the road.
Need to get your clutch replaced? Let AutoGuru help!
Receive affordable quotes from qualified, local mechanics and easily book online.

Jason is a Canadian automotive content writer with a background in the auto service industry, but he's been hooked on cars and mechanics since childhood.
One of his first cars was an '80 Mazda RX-7 that's sorely missed to this day. A '68 Ford Torino GT, a '66 Ford Country Squire Woodie station wagon, and a '96 Suzuki GSX-R 750 have spent time in his fleet of cars, bikes, and trucks over the past two decades.
Jason's pride and joy is under construction – a turbocharged '88 Mazda RX-7 convertible. Also on his resume is CASCAR official certification.