The 5 Best Mobile Mechanics in Sydney
Updated 7 Oct 2021
AutoGuru
Meet Sydney's TOP 5 highest-rated Mobile Mechanics in 2020!
Let's face it, most of us don't know everything there is to know about our cars mechanical well-being, and who can blame us?
Becoming a fully qualified mechanic takes years of hard work and constant training.
That's why today, we're here to recognise the Top Mobile Mechanics in Sydney.
In 2020, AutoGuru partner mechanics in Sydney quoted over $24 million worth of services and repairs for AutoGuru customers, to help them better care for their cars.
These Top Mobile Mechanics in Sydney went above and beyond to consistently deliver amazing service experiences to their customers.
#1 Sydney Automotive Care Mobile Mechanic
Average star rating in 2020 - 5
Congratulations to Sydney Automotive Care Mobile Mechanic for being awarded Sydney's best mobile mechanic for 2020!
Rami is a motor vehicle specialist who prides himself on delivering quality service with no fuss. Sydney Automotive Care Mobile Mechanic uses the highest quality parts to ensure that your vehicle maintains top performance and reliability.
Book with Sydney Automotive Care Mobile Mechanic
With over 25 years of experience, it's no wonder that they've received so many 5 star reviews this year! Check out this awesome review.
"Rami was excellent. Very professional, great communication and customer service. He only does the work that the car needs. I found it to be a convenient and effective car service." - Fiona, July 2020
Average star rating in 2020 - 5
Daniel from Kariz Mobile Mechanical has over 10 years of experience, so there's no doubt that your car will be in great hands.
Whether it be logbook servicing or mechanical repairs, Kariz Mobile Mechanical will come to your location and get the job done, making sure that your vehicle is performing at its best.
Book with Kariz Mobile Mechanical
They offer a free vehicle diagnostic scan with every service and also specialise in European vehicles.
Take a look at what one very satisfied customer had to say!
"Daniel was excellent, he has explained that was wrong in a way that I understood, he worked hard to dismantle a few parts just to be sure no hidden damaged parts were stuck. Overall, extremely pleased with the experience and definitely will recommend him to anyone needing a mechanic." - Julian, November 2020
Average star rating in 2020 - 5
TopEnd Automotive pride themselves in delivering convenience, friendly service, expertise and competitive pricing.

Rabiy has over 16 years of experience, and it's no wonder that he's earned a reputation of being able to fix the problems that others can't!
TopEnd Automotive are all about delivering service that exceeds customer's expectations, and it's no wonder they've received an average star rating of 5 stars for 2020.
Check out this review from a very happy customer.
"Rabiy was prompt, courteous and nothing was a bother." - Anna, October 2020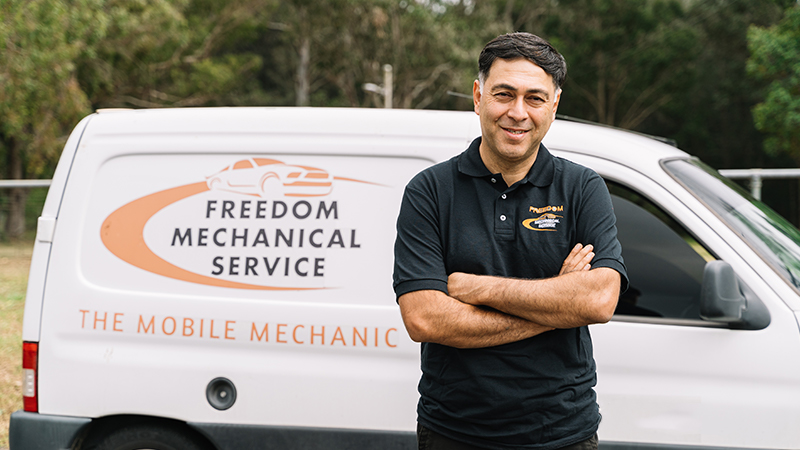 Average star rating in 2020 - 4.9
Freedom Mechanical Service provide mobile auto repair, servicing and electrical service to the Western Sydney suburbs.
Their qualified mechanics are here to carry out any of your maintenance and servicing needs, and prioritise quality and friendly service every time.
Book with Freedom Mechanical Service
They've received so many amazing reviews in 2020 and scored an average star rating of 4.9.
This review definitely shows just how incredible their service is!
"Fantastic skills, very polite, very proficient and knowledgeable of cars, excellent Thank you Freedom Mechanical Service." - Ravil, October 2020
Average star rating in 2020 - 4.8
QualityOne Automotive have been keeping people safe on the roads in Sydney since 1992! They're equipped with the latest technology and use the highest quality oils and lubricants.
They also offer air-conditioning maintenance, repairs & re-gassing as part of their mobile service.
Book with Qualityone Automotive
The Qualityone Automotive team doesn't compromise on quality, and the many incredible reviews they received this year can definitely vouch for that. Here's what one happy customer had to say about their service.
"Absolutely amazing service. Honest and really polite, will definitely be using Qualityone Automotive again!" - Maddelynne, November 2020
--
Looking for a mobile mechanic in Sydney but can't find the right one on this list?
Compare pricing, read reviews and book online at AutoGuru.
AutoGuru is Australia's largest online marketplace for booking automotive services.
We've got a passion to remove the stress, hassle and ambiguity from booking automotive servicing and repairs, both for the mechanic and the motorist.