AutoGuru comes 3rd in Deloitte's 2020 Tech Fast 50 program!

Updated 16 Apr 2021
AutoGuru
After a year that required nothing less than true grit and determination, AutoGuru has been recognised for the second time in Deloitte's Tech Fast 50, this time ranking as 2020's third fastest-growing technology company in Australia, in addition to being listed 49th in the Deloitte Technology APAC Fast 500 list of 2020.

The 2020 Deloitte Technology Fast 50 Australia Awards rank Australia's fastest public or private technology companies, based on percentage revenue growth over the last three years (2018-2020). 
The APAC Fast 500 ranks the Asia-Pacific regions 500 fastest growing companies using the same criteria.

AutoGuru is extremely proud and humbled to add these achievements next to 2019's seventh place. It's a true testament to the team's hard work and resilience throughout a year that provided many challenges.  

As Australia's largest booking site for car services and repairs, AutoGuru continues to lead innovation within the industry; transforming customer experiences when booking auto services and helping people better care for their cars.
--
In 2019 AutoGuru was announced as the 110th Fastest Growing Tech Company in Deloitte's Tech Fast 500 Asia Pacific program. This is another awesome achievement, and we're thrilled to be recognised alongside other high-growth tech companies from countries such as Japan, India, Soth Korea and Malaysia.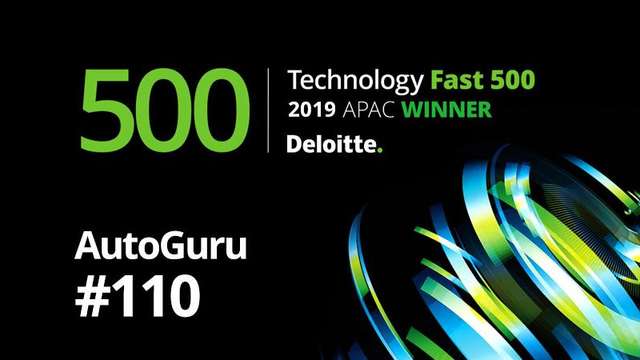 Through innovative customer-centric solutions, AutoGuru has implemented strategies aimed at improving the customer's experience when booking auto service providers. The team rallied around a content strategy aimed at providing consumers with everything they 'auto' know about the various different categories in the automotive industry. Reducing ambiguity around what a repair or service is and what it involves allows AutoGuru's customers to more confidently book auto service providers.
As the first and only auto servicing and repairs booking platform to partner with Afterpay, AutoGuru also provided a feature that not only improves the customer experience by offering a flexible payment method, but also provides businesses the ability to directly provide Afterpay to their direct customers. Improving convenience for customers by offering the most popular flexible payment method in Australia is huge!
Early 2019 saw the integration of Uber into AutoGuru's unique services, whilst simultaneously becoming the first business in the world to directly integrate with the Uber Vouchers API. This opportunity provides customers the ability to redeem a courtesy Uber ride voucher. This extra perk removes the lengthy wait time consumers at workshops and allows for a convenient way to commute when their car is being serviced. This not only enhances the customer experience, but removes the need for service providers to supply loan cars or drop-off services. It's a win-win!
AutoGuru is setting standards for epic customer experiences within the automotive industry, heavily reflected in their abundance of positive online reviews. With an average of 4.7 stars across multiple platforms, it is clear that AutoGuru continues to impress with their innovative tech solutions, and customers are talking about it! This is one of many contributing factors to their substantial growth.

AutoGuru is Australia's largest online marketplace for booking automotive services.
We've got a passion to remove the stress, hassle and ambiguity from booking automotive servicing and repairs, both for the mechanic and the motorist.