Average Running Costs For Australia's 4WD Vehicles

Updated 14 Nov 2023
Rita Bonivento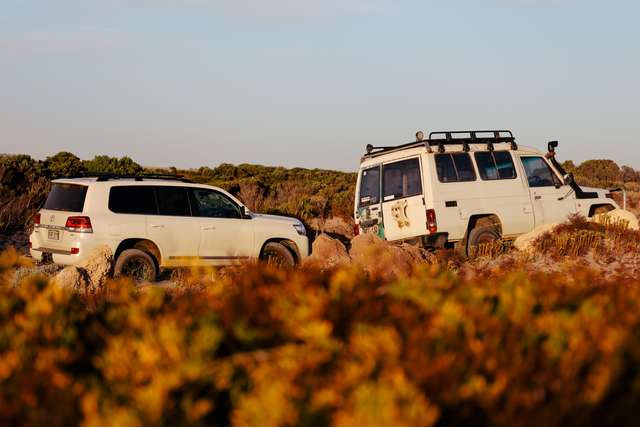 From our national network of more than 1,600 workshops and mobile mechanics, AutoGuru has compiled and compared the true annual cost of five of Australia's top-selling and most popular 4WD vehicles.
Many Australians have purchased a 4-wheel drive as their vehicle of choice for both daily commuting and weekend adventures.
Being versatile enough to handle city traffic with ease and then venture off the beaten track on weekends and family holidays, 4WDs provide comfortable family transport, wherever you're headed.
But what about servicing costs?
The table below shows the average car servicing cost per annum based on a 10-year logbook service schedule.
| | | |
| --- | --- | --- |
| MODEL & RRP | SERVICE INTERVAL | AVG. SERVICE COST PER YEAR |
| $49,029* | 10,000 km / 6 months | $946 |
| $35,722* | 10,000 km / 6 months | $1,272 |
| $37,162* | 15,000 km / 12 months | $737 |
| $46,829* | 26,000 km / 9 months | $745 |
| $31,068* | 15,000 km / 12 months | $523 |
*Comparing 2016 models / average retail price
The Toyota Landcruiser Prado and the Jeep Grand Cherokee both have rather costly service schedules because they require servicing at 10,000km or 6-month intervals, whichever occurs first.
The services themselves are also more expensive, varying from $400 up to $1,200, depending on which service is required.
The Landcruiser requires a timing belt change at 150,000km – so this will need to be budgeted for.
The Mitsubishi Pajero encounters a higher servicing outlay because it requires a major service every 30,000km, costing around $850. Its most expensive service occurs at 90,000km and averages $1,100.
While 4WDs are a great option for serious off-roaders, servicing and maintenance costs may be too high for the average motorist.
In this case, it may be better to go for a smaller SUV, one that is still capable of tackling the family camping trip, just not the rugged off-road tracks.

Rita's a Gold Coast dweller who's been wordsmithing for ages. She started out at Michelin Melbourne 22 years ago, & an avid traveller, has written in the marketing arena all over the world since then.
Her first car was a 1970 VW wagon she inherited from her dad. She's had a few vehicles since then with an overall Toyota theme coz she reckons they do the best air con for the Aussie heat.