What's the difference between air conditioning and climate control?

Updated 11 Oct 2019
Michael Jacobson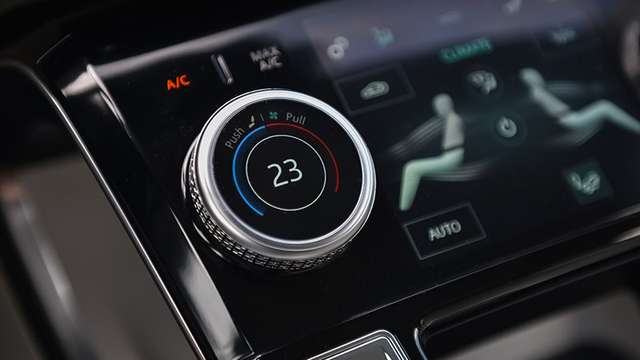 Growing up in Tasmania, there was never much call for switching on the air conditioning to keep things cool in the car.
Even on summer's hottest days it was enough to manually roll down the window – yep, this was way back before technology did the work for us – and let the breeze blow through.
As for winter, every car heater in the Apple Isle was permanently cranked up to a Spinal Tap-like 11, and even then you still kept your coat and footy club beanie on.
Flash forward to today and, no matter where you live in this vast country of ours, air conditioning and climate control are pretty much taken for granted as part of the ultra-modern automotive experience.
But what's the difference between AC and CC?
PLAYING IT COOL
Air conditioning and climate control fit within your car's HVAC (heating, ventilation and air conditioning) system, which is there to provide a comfortable travelling environment and good air quality within the vehicle.
Air conditioning came first, launching in the US in the 1930s, although early systems were expensive to buy, difficult to fit and never worked very well.
As technology improved, however, AC systems became more reliable and generally featured graduated settings for heating, cooling and airflow, along with handy stick figure representations indicating where you could direct the air (a bit like that old Play School song about "heads and shoulders, knees and toes").
These settings were in the driver's control, except in the case of selfish front seat passengers who would adjust the AC to their own needs without a thought for the time and effort you'd put in to getting it just right.
The other issue about AC in the pre-climate control era was that no matter what the TV commercials told you about the generous flow of air throughout the vehicle, anyone in the back seat generally copped a raw deal.
The arrival of climate control changed everything for the better in that it gave the driver and passengers greater individual control over air temperature and flow.
AC or CC: HOW THE SYSTEMS WORK
While making the air conditioning work is as easy as pushing the button marked AC on your dashboard, what happens next is more complex, compressed and condensed.
Under the bonnet, an AC compressor sends refrigerant gas to an AC condenser, which cools the stuff before sending it back as a liquid that ultimately emerges through the vehicle vents as cool air.
Presumptuous front seat passengers aside, air temperature and flow via the AC are again mostly controlled by the driver.
By the way, modern automobile air conditioning systems have a long lifespan, but be aware that refrigerant will become less efficient over time and eventually require a visit to your AC specialist for a re-gas.
Climate control is a more autonomous process, allowing occupants to determine their own temperature requirements.
The system's technology can then automatically maintain these specific settings, regardless of changes to the outside temperature.
Whether heating or cooling, today's HVAC systems are all about precision and comfort, with safety another important factor given how quickly they can de-fog windscreens and windows.
AutoGuru has a number of HVAC-related articles on our website, all part of our mission to help you find the best advice and access top local mechanics for inspections, repairs and replacements.
How much to replace my AC condenser
How much to replace my AC compressor

Written By
Michael Jacobson
Michael Jacobson is an award-winning Queensland-based writer.
His appreciation for motoring began as a young journalist covering racing from Simmons Plains in Tasmania.
Over the years he has interviewed many Australian and international motoring greats.
He has also been driven around Lakeside Raceway at ferocious speed, circumnavigated the Gold Coast Indy circuit at more than 200kmh and managed to squeeze 365,000 kilometres out of a Toyota Starlet.