What are the rules regarding car window tinting?

Updated 18 May 2022
Rachel White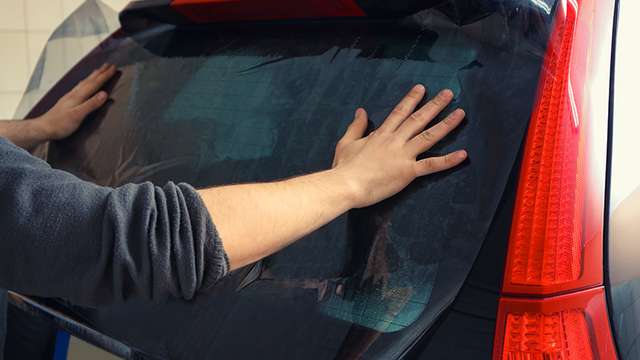 As much as we might like to do so, there are legitimate reasons why we can't black out car windows and drive in obscurity like paparazzi-avoiding Hollywood types or criminals on the run.
Obviously, we need to be able to clearly see not only the road on which we are travelling but others who are using it too, and a dim view will be taken by the authorities should anything reduce visibility beyond what is deemed acceptable.
Each state and territory has its own regulations regarding car window tinting and these can be updated at any time, so check before you tint. It's also a good idea, if you are planning to move interstate, to ensure you can register your vehicle in the new location.
WINDOW TINTING 
Window tinting measures are based on how much light gets through the glass. This is called visible light transmission (VLT).
Here is a list of VLT limits as of 8 July 2019 for passenger vehicles.
Australian window tinting VLT regulations:
NT:
75% Windscreen
35% Front side  
15% Rear of driver
QLD:
75% Windscreen
35% Front side
20% Rear of driver
NSW:
70% Windscreen
35% Front side
20% Rear of driver
ACT:
70% Windscreen
35% Front side
20% Rear of driver
VIC:
70% Windscreen
35% Front side
20% Rear of driver
TAS:
70% Windscreen
35% Front side
20% Rear of driver
SA:
70% Windscreen
35% Front side
20% Rear of driver
WA:
70-75% Windscreen
35% Front side
20% Rear of driver
Some commercial vehicles, vans and buses may have no VLT restrictions for windows that are rearward of the driver, although there are certain exemptions for vehicles carrying special cargo.
What to consider
Darkest is not always best, and this modification could land you in trouble with insurance companies, the police and make your vehicle unregisterable.

The reflectiveness of the window tint has to be the same as untinted glass otherwise it can be deemed illegal. You don't want to be dazzling other drivers - in the wrong way.

Only have window tint applied by a specialist who understands the law and provides a professional finish. The tint should never be sprayed on and there shouldn't be faults in the application. Excessive faults or air bubbles are not OK. You should be able to clearly see through the tint without any obstructions in your field of vision.

A professional finish should also provide a longer tint life. Cheapest isn't always the best and an inferior film, poorly applied, can lead to poor visibility and result in having to be removed to maintain a legal vehicle.

For those who are already vision impaired, or whose eyesight is affected by age, window tint may further reduce visibility. Consider the type of tint you select.

Some windows come factory tinted. If you're adding a 35% VLT tint to a factory-tinted window you may exceed the legal limits. Both tints need to be calculated to get the total VLT.
Windscreens
The main body of a windscreen is not to be tinted. Windscreens are already required to have at least 70-75% VLT and due to their construction they block out 98% of harmful UV rays, so they don't require modifying.
However, opaque or tinted bands are acceptable across the very top of the windscreen to provide a sunshade. This tint can cover up to 10% of the depth of the screen but cannot come within the reach of windscreen wipers.
Best practice
Weigh up if a darker tint is going to provide you with enough visibility. Will you be able to see pedestrians, cyclists and other vehicles in poor weather and light conditions?
Do it right the first time. Make sure you use a reputable window tinter that can guarantee you roadworthiness. By booking a professional window tinter through AutoGuru, you'll get the right finish.

Rachel spent her early adult life around cars, motorsport and hands-on with her own cars. This interest moved into various careers within the Automotive industry. Joined with her passion for writing, Rachel loves putting the two together to share her experience, so we can all become AutoGuru's.