Top 10 most expensive cars to maintain in 2019
Updated 24 Jan 2020
Rowan Johnstone
In 2019, AutoGuru helped tens of thousands of Aussies better care for their cars, so we've got a pretty good idea of what the most expensive models to maintain were. Take a look, and see if the car you've got your eye on has made the list!
Note - The cars on the list must have had at least 100 bookings through AutoGuru in 2019 to be listed. So no, don't expect this list to be dominated by Ferraris and Lamborghinis. This list is also based on average booking values for a host of servicing, repairs and inspections, so it's not the be-all and end-all.
1. Volkswagen Amarok
Volkswagens entry into the highly competitive 4x4 ute category tops the list as the most expensive car to service or repair in 2019.
The most common service interval for the Amarok in 2019 was the 30,000km / 24-month service, whilst the most common repair was for front brake pads and rotors, with clutch replacements not far behind.
2. Mitsubishi Triton
Two out of two for utes! The Triton comes in at second for 2019, with the most common service being the 75,000km / 60-month interval. The most common repairs for the Triton was for front brake pad replacements and windscreen replacements.
3. Toyota Landcruiser
Alright, it's starting to become clear that these rugged workhorses we Aussies are so in love with might be hurting our back pockets. Although, looks like Landcruisers are putting a lot more kilometres on there than the previous two models.
The most common service interval booked through AutoGuru for the Landcruiser was the 200,000km / 120-month service. Most common repairs included windscreen replacements, front brake pad replacements and alternator replacements.
4. Holden Colorado
I'm not even surprised anymore. Our fourth cab chassis ute in a row, and I fear it won't be the last either. Yes, I know the Landcruiser also has SUV variants. 
In 2019, Colorado owners most commonly booked in for 90,000km / 54-month services, as well as front windscreen replacements, timing belt replacements and front brake pads.
5. Nissan Navara
Alright, I promise that we don't just book servicing and repairs for off-road 4x4 cars! So far, the Navara comes in as the car with the most bookings out of those in the top 5.
In 2019, Navaras were most commonly booked in for a 120,000km / 72-month logbook service. For repairs, we saw them coming through for front brake pads, windscreens and clutches.
6. Mitsubishi Pajero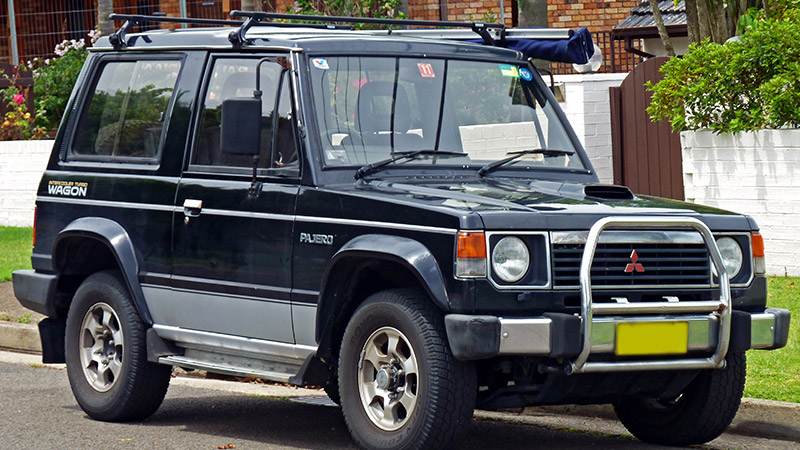 Mitsubishi's second appearance on this list and it's a not a ute in any way, shape or form! Whilst still a big rugged 4x4, the Pajero is our first model to not have a ute variant to make the list.
Pajero owners used AutoGuru to mostly book 165,000km / 132-month logbook services, as well as windscreen replacements, front & rear brake pad replacements and oil leak inspections.
7. Jeep Grand Cherokee
You bought a Jeep! Our first American model to find its way on our list.
2019 saw Grand Cherokee owners most commonly book in for 70,000km / 42 months logbook services. The most common repairs were for air conditioning regas, AC condenser replacements and wheel alignments. Bucking the trend a bit there!
8. Jeep Wrangler
Two in a row for 'Murica! The Jeep hero car finds its way to number eight on our list. In 2019, Jeep Wranglers were most commonly booked in for a 60,000km / 30-month logbook service. Whilst common repairs included windscreen replacements, front & rear brake pads and battery replacements.
9. Holden Rodeo
Interestingly enough, this is the only car on the list that you can't buy new today, with the Rodeo not being sold since 2008. The Rodeo was Holden's pre-Colorado foray into cab-chassis utes.
It looks like Rodeo's are kicking on nicely, with the most common servicing being the 250,000km / 150-month logbook service. Repairs included windscreen replacements, clutch replacements and front brake pads.
10. BMW 1-Series
Bucking the trend completely, we find the BMW 1-Series scrape into the list. The 1-Series can be had as either a convertible, hatch or coupe. Yep, you read that correctly, no cab-chassis or 4x4 SUV offering at all!
The interesting thing about BMW servicing is that it's all 'condition-based'. For each service, simply put, the car is plugged into a computer and it tells you what it needs to be replaced. They don't adhere to traditional logbook servicing.
For repairs, the most common was for rear brake pads, front brake pads and tyre replacements.
So there we have it. The top 10 most expensive cars to maintain in 2019, based on having at least 100 AutoGuru bookings.
Did your current or next car make the list?
Remember, through AutoGuru, you can get instant quotes for your car servicing and select repairs. That means you can find out how much your maintenance costs will be in advance. How good is that!
As a bonus. I'll add the five most expensive cars to maintain, irrespective of how many bookings they had, just in case you were curious.
Mercedes-Benz GL-Class, BMW X6, BMW 4-Series Cabriolet, Renault Megane IV, Audi A7.
Written By
Rowan Johnstone
On weekdays Rowan can be found in the AutoGuru office, driving content and growth with the rest of the marketing team.
On weekends you'll probably find him in the garage with his father restoring a 1958 Ford Star Model Customline or enjoying a cruise through the Gold Coast hinterland on his Suzuki GSX-R600.
Despite his passion for being behind the wheel (or handlebars), he looks forward to the day when he can commute to work in his own driverless car.