Bendix EV-Hybrid Pad Range Now Available For Tesla

Updated 26 Sep 2023
Bendix
Based on industry sales data, Tesla's Model 3 and Model Y emerged as the top-selling electric cars in Australia and New Zealand. 
Bendix has responded to the increasing demand by introducing a range of new disc brake pads that are specifically designed to fit these popular models.
Bendix expands the brake pad range for EVs
Part of a recent expansion of its EV-Hybrid range, the latest additions – which are available in both front and rear sets – were specifically designed locally for Tesla Model 3 and Model Y.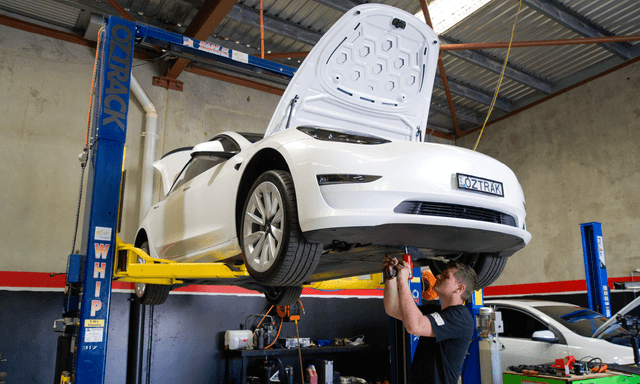 The EV-Hybrid disc brake pads utilize an organic friction material that incorporates a mix of ingredients. These include synthetic glass fibres, aramid fibres, and natural organic fibres as the primary reinforcing elements. Additionally, organic modifiers and binding resins are added to the mix. This combination results in exceptional stopping power, minimal noise and dust emissions, and a reduced environmental impact.
Commitment to green
The brake pads of Bendix EV-Hybrid incorporate copper-free organic friction materials that have been certified with the 'N' rating from the Automotive Aftermarket Suppliers' Association (AASA). This noteworthy certification validates that Bendix EV-Hybrid disc brake pads contain less than 0.5 percent of copper by weight, allowing Bendix to proudly display the AASA LeafMark™ 'N' icon.
By attaining an 'N' rating from the AASA LeafMark™, Bendix firmly stands behind its dedication to copper-free brake pads, aiming to minimize their impact on the environment. The AASA LeafMark™, considered among the most rigorous environmental standards for brake materials, certifies that the Bendix EV-Hybrid material has undergone thorough testing by an independent laboratory, meeting and surpassing this stringent benchmark.
In addition to their eco-friendly credentials, the pads come with packaging that eliminates plastic shrink wrap. Instead, they utilize Hexcel Wrap, a fully recyclable paper product. Taking it a step further, the exterior packaging is FSC™ Certified. This ensures that 70% of the packaging is sourced from FSC™ certified or recycled materials, while the remaining 30% is derived from controlled wood.
Bendix EV-Hybrid disc brake pads are also available for other popular EV and Hybrid models from leading brands including Toyota, Lexus, Honda and Mitsubishi. 
Additional releases are planned in the coming months.

Bendix, Australia's leading brake manufacturer since 1955 is part of the international FMP Group, a world leader in brake technology.
FMP's Australian manufacturing operation, based in Ballarat VIC, it is the regional technical centre of excellence in advanced research and development for Asia Pacific and a key original equipment supplier to leading vehicle manufacturers.
The Bendix program caters for the widest range of vehicle applications including 4WD's and heavy commercial vehicles and trailers.
Automotive workshops can select from technically advanced Bendix products including General CT, 4WD/SUV, Heavy Duty, Euro+, Ultimate, Street Road Track, Brake Shoes, Commercial Vehicle, Brake Lubrication, Brake Fluid and Brake Parts Cleaner/Degreaser.