Great Australian drives

Updated 6 Apr 2021
Joel Ilton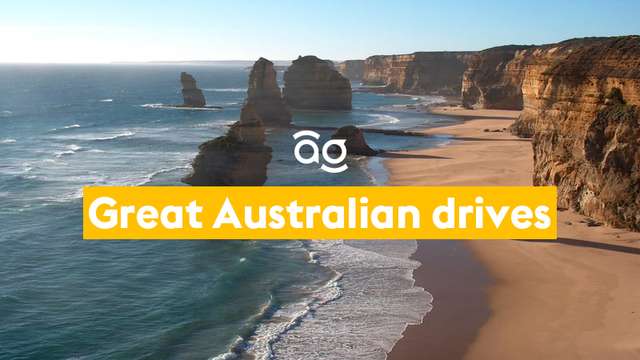 Heading off on an Aussie road trip?
There are many great roads dotted around this amazing country of ours – some more well known than others.
Whether you're interested in following the stunning coastline, or travelling through the awe-inspiring rust coloured earth of the outback, there's an Australian road trip to suit your adventure style.
Here are our Top 5 best drives around Australia!
The Great Ocean Road, Victoria
No list of Aussie drives would be complete without this road, arguably one of the most famous roads in the country.
Starting in Torquay and finishing in Warrnambool, this road follows the Victorian coastline, and passes some infamous landmarks – The Twelve Apostles, London Arch and the Loch Ard Gorge, as well as some amazing coastline views, rock stacks and limestone formations.
Although classNameed as a day trip from Melbourne, staying overnight and travelling back the next day will allow you to make the most of the spectacular scenery!
Fraser Island, Queensland
Fraser Island, located off the coast of South East Queensland, is the largest sand island in the world and is perfect for 4WD and camping trips!
From the firm and lengthy beachline along the eastern shore littered with large sand dunes, to the coloured sands of the Cathedrals, the Pinnacles and Rainbow Gorge, Fraser Island is a great place to take the family to explore.
The best time for tailor fishing is throughout the months of August to October.
Make sure to check out the numerous inland freshwater lakes littered around the island, and get up close and personal with the ghostly World War I hospital shipwreck, Maheno. You'll need a dedicated 4WD and a good camera (or lots of storage on your phone camera) for this trip.
Grand Pacific Drive, New South Wales
A popular day drive, this infamous road trip starts in Sydney and ends in Woollongong, travelling over the renowned Sea Cliff Bridge which extends 50 metres out into the ocean and boasts spectacular views.
The bridge features two traffic lanes, a cycleway and a walkway and is especially amazing to experience at sunrise.
Stopping in at Stanwell Tops provides a great view over the bridge as well as the national park on the other side.
Gibb River Road, Western Australia
This next one is for the hardcore 4WD enthusiast.
For a more extreme road trip, the Gibb River Road takes travelers from Derby to Kununurra, a 930 kilometre trek in Western Australia's Kimberley region.
Your 4-wheel drive will need to be a serious piece of kit to handle this trip, as some of the roads to travel are extremely corrugated.
Passing through three mountain ranges, you will come across breathtaking scenery including beautiful waterfalls (in the wet season), striking gorges and river crossings. There are also many camping spots along the journey, with notable stops at the El Questro and Home Valley Stations.
Alice Springs, Uluru and  Kings Canyon, Northern Territory
The final trip on our list sees us travel to the heart of the outback – Alice Springs and Uluru.
This is a fairly long trip at just over 1000km, but takes in some amazing sights including the Henbury meteorite craters, Kings Canyon and the Finke River before finally arriving at Uluru.
You don't need a fancy 4WD for this trip as all the roads are sealed, so this trip is perfect for folks that want to see the outback without leaving the creature comforts of home.
Now, imagine a seamless segue here…

Right. AutoGuru lets you search, compare and book from over 1600 qualified mechanics across Australia. Boom!

Finding a passion for cars from a young age, Joel carried out work experience as a mechanic whilst at school before starting an apprenticeship after finishing year 12.
Joel is now the Workshop Manager at Robina Volkswagen.