Bendix ultimate 4WD brake upgrade kit

Updated 27 Nov 2019
AutoGuru
Sponsored
If you're a four-wheel-driving enthusiast, you're well aware of the punishment your 4WD goes through on those weekend getaways in some extreme conditions. Whether it's sand, gravel, rocks or mud, you can certainly say your rig is well-travelled off the beaten track.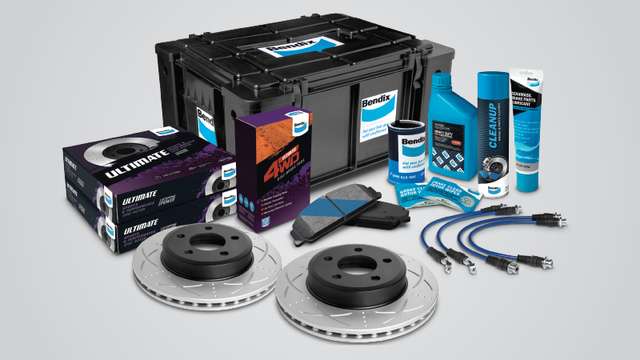 Making sure your 4WD is up to the task is so important in order to ensure the safety of yourself, your passengers and any other road users (we use the word 'road' pretty loosely here), and your braking system is a huge part of this.
This is where upgraded brakes kits, such as the Bendix Ultimate 4WD Brake Upgrade Kit, come in handy. Consisting of high-performance parts that are built to withstand even the toughest of Aussie conditions, your 4WD will experience increased stopping power in all conditions. Bendix uses innovative technology to ensure this high-performance brake kit can remove everything from dust, grit, water and gases from braking components, to ensure consistent braking performance and absolute control.
A tough braking system is so important on a 4WD, as they need to repeatedly stop massive loads and be able to take the punishment of some of the toughest conditions in Australia. After being punished all day, or all week, up in the trails or on the beaches and inland tracks of your local sand island, your brakes then need to get you back home safely on the highway or backcountry roads. They need to step up to the plate in so many different scenarios, and they need to do it well.
The Ultimate 4WD Brake Upgrade kit from Bendix combines high-performance ceramic brake pads with the very latest Bendix Ultimate Rotors. In addition to this, the kit will provide an Ultimate braided brake hose, heavy-duty brake fluid and other supporting items to ensure your braking system is up to the task every time, no matter the conditions. We can't forget the heavy-duty touring case in which your new brake kit comes packed in, which is easily reused for any of your storage needs when on the go. 
According to Bendix, "The outcome from the high-performance brake kit, with its technically advanced additional strength ceramic brake pads and the ultimate slotted rotors, is its sensational stopping power, especially under load conditions. Measured in a direct comparison with OEM brakes at 100KM/H it revealed an incredible improvement in stopping distance of up to 5 metres for the vehicle fitted with the Bendix Ultimate Brake Upgrade Kit. Exhaustive testing also revealed a firm brake pedal that won't over-expand under pressure, a reduction in brake dust and braking noise along with thermal stability in high temperatures and resistance to brake fade."
The Ultimate 4WD Brake Upgrade Kit from Bendix is a direct fit on a huge range of late model 4WD models such as the HiLux, BT-50, Navara and Ranger. 
Visit Bendix to learn more about the Ultimate 4WD Brake Upgrade Kit, and discover how it can transform the stopping power on your 4WD.

AutoGuru is Australia's largest online marketplace for booking automotive services.
We've got a passion to remove the stress, hassle and ambiguity from booking automotive servicing and repairs, both for the mechanic and the motorist.