8 handy tools and accessories you should keep in your car

Updated 11 Oct 2019
Jason Unrau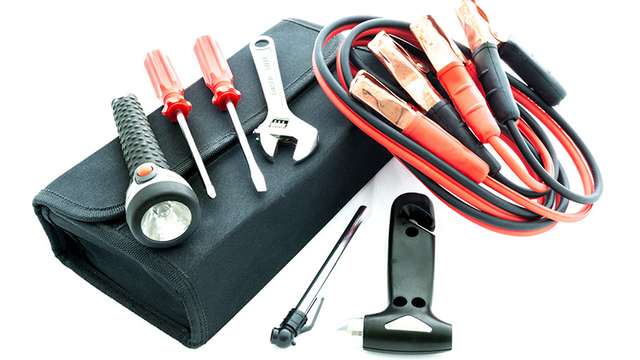 Part of the thrill and skill of driving is responding to unknown conditions. But sometimes there can be issues that you aren't expecting, so you need to be prepared.
A good driver always has a kit on hand to cover their bases in a variety of circumstances . . . are you one of those prepared drivers?
You aren't alone. Only a fraction of cars on the road today have an emergency kit or even a few all-purpose tools and supplies.
We'll help you though. Here are a handful of tools and gadgets to keep in your car.
Tow Strap
Of course, you need a tow strap.
You could get stuck in the mud or slide off the road in the rain.
Or, someone else could and you can be their knight in shining armour.
Keep a heavy-duty tow strap in the boot – preferably one with hooks on both ends.
Flat straps roll up nicely for storage.
LED Flashlight
Often, car problems happen in the dark, where you're least prepared to deal with them.
A flashlight is highly recommended, along with spare batteries, to illuminate the work area.
Your best bet is an LED flashlight for its low battery consumption and extreme luminosity.
Multi-tool
For a wide range of issues, a compact multi-tool should be stored in your glove box.
It's like a Swiss Army knife, only more versatile and sturdier.
Leatherman makes great tools that include a knife, pliers, folding screwdriver bits, files, and such. In a pinch, a pocketknife would do.
Screwdriver set
There are so many purposes for screwdrivers.
They can be used to align bolt holes, pry stuck items apart, or punch into a pop can with the tab broken off.
Have a set with flat, Phillips, and Robertson tips in the common sizes.
Oh yeah, they also work to loosen and tighten screws. 'Righty tighty, lefty loosy'.
Common wrenches
Countless bolts and nuts go into manufacturing a car. You may need to tighten or remove one from time to time.
Have a set of metric and SAE wrenches in the boot along with the rest of your kit.
Another alternative that can save some space is a basic ratchet and socket set.
Jumper cables or booster pack
Dead batteries happen at the worst of times and no one seems to have booster cables to help anymore.
Be the saviour with your own set tucked into the boot.
A booster pack is ideal but booster cables are also fine.
Duct tape
You never know when something is going to come apart. A window might stop working or the seat cushion could rip.
Duct tape fixes everything – at least, temporarily.
A roll of the typical silvery-grey duct tape is only a couple of dollars and will save you much heartache.
Tyre inflator
Flat tyre? You could fit the spare tyre, but many cars today don't have one (for silly weight-reduction purposes).
A tyre inflator pump or compressor can fill it up until you can get to a garage for a true repair.
Compact compressors are inexpensive and are a great accessory to have for yourself or someone else.
If you find yourself in trouble without any of these tools. Book in with an AutoGuru mechanic and they will help you out.

Jason is a Canadian automotive content writer with a background in the auto service industry, but he's been hooked on cars and mechanics since childhood.
One of his first cars was an '80 Mazda RX-7 that's sorely missed to this day. A '68 Ford Torino GT, a '66 Ford Country Squire Woodie station wagon, and a '96 Suzuki GSX-R 750 have spent time in his fleet of cars, bikes, and trucks over the past two decades.
Jason's pride and joy is under construction – a turbocharged '88 Mazda RX-7 convertible. Also on his resume is CASCAR official certification.