The 7 Best Mobile Mechanics in Sydney 2023

Updated 20 Jun 2023
AutoGuru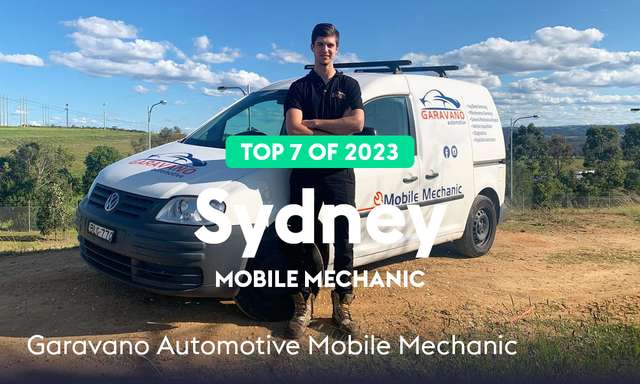 Meet Sydney's top 7 highest-rated mobile mechanics in 2023!
Let's face it, most of us don't know everything there is to know about our cars' mechanical well-being, and who can blame us?
Becoming a fully qualified mechanic takes years of hard work and constant training.
That's why today, we're here to recognise the Top Mobile Mechanics in Sydney.
In the past year, AutoGuru partner mechanics in Sydney quoted over $20 million worth of services and repairs for AutoGuru customers, to help them better care for their cars.
These Top Mobile Mechanics in Sydney went above and beyond to consistently deliver fantastic service experiences to their customers.
#1 Garavano Automotive Mobile Mechanic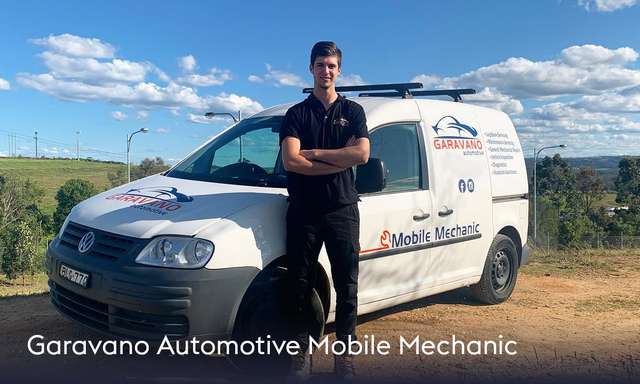 Congratulations to Garavano Automotive Mobile Mechanic for being recognised as the top-rated mobile mechanic in Sydney!
Have no time to take your car into the shop? Garavano Automotive brings the workshop directly to you! Stress no more about getting your car serviced and repaired!
Garavano Automotive makes life easier with their mobile workshop, providing high-quality auto services straight to you. Their qualified mechanics are experienced and knowledgeable in all aspects of vehicle maintenance - from diagnostics through inspection to roadside assistance. Plus they use quality brands like Bendix for added assurance when it comes to servicing your ride.
For residents living around the South West Sydney region looking for convenience at its finest - book a reliable mobile service today with flexible payment options available!
Their team provided phenomenal service in 2022, with 100% of customer ratings being 5 stars. Check out this great review.
"Great friendly mechanic. On time and reasonable prices. Will definitely be using you again, thanks Nick." - Lisa
#2 Grease Monkey Mobile Mechanic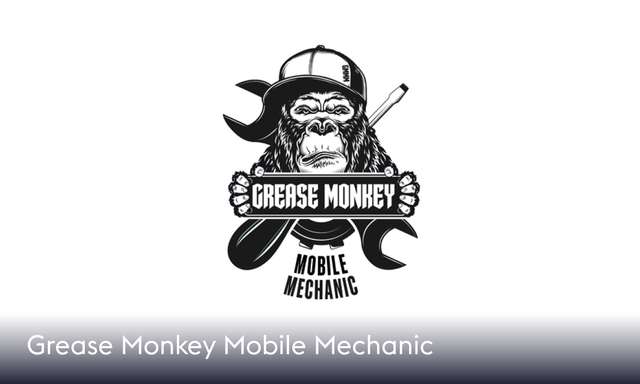 Among Sydney mobile mechanics, Nick and the team at Grease Monkey Mobile Mechanic are rated second best, congrats to them.
Grease Monkey is the perfect mobile mechanic for Sydney drivers who want nothing but honest and friendly service. With more than two decades of experience under their belt, you can trust them to deliver top-notch auto repairs and car servicing right in your driveway!
Grease Monkey services all makes and models - including European vehicles. Get top-quality service at a great price including logbook servicing, rego checks, brakes, suspension repairs and diagnostics - plus so much more.
Did we mention that their team use only the best brands like Bendix? Bookings are available 6 days a week, don't wait any longer to get those pesky logbook services or rego checks done on time!
The service they provided last year was rated as 5 stars by 96% of customers, that's amazing. According to this review from a grateful customer, they go the extra mile.
"Nick turned up on time and was friendly and ready to go. Asked him to check something out for me and he took pics under the car so he could more easily explain to me what he was talking about. Will definitely use him again. Did a thorough job and then some." - Jodi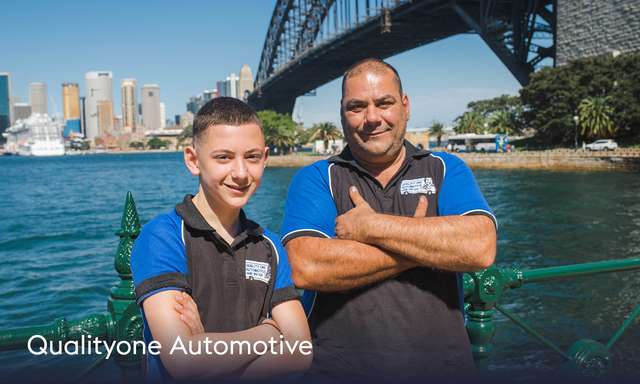 It is awesome that Qualityone Automotive came third this year as one of Sydney's top-rated mobile mechanics. Throughout the years, they have repeatedly demonstrated consistently high ratings.
Frank and the QualityOne Automotive team bring the automotive service experience to you! This family-run business has decades of expertise, empowering them with all the latest tools and knowledge needed for modern vehicle maintenance.
Their crew consists of fully qualified auto electricians, and mechanical engineers - making sure you get value for money and high-quality parts used in every job.
You can count on them as they provide logbook servicing, brake and suspension repairs plus pre-purchase inspections, among other mobile services like air conditioning maintenance/repairs etc. right at your doorstep in Sydney – be it at home or the office 7 days a week! Best part? Flexible payment options are available so don't miss out!
In 2022, 92% of customer ratings were 5 stars, a testimony to the high quality of service Qualityone Automotive provides. A satisfied customer in 2022 left this top review.
"Excellent! Frank was on time, had great communication from the get-go, knowledgeable and well-mannered. It is refreshing to have some good old fashion customer service. Bonus that he was able to come out to me. Wouldn't hesitate to reach out to Frank for my next car service or car needs. A+." - Ursinia
Get ready for your automotive needs to be taken care of with ease! Top Notch Mobile Mechanic is now servicing the Sutherland Shire and Southern Sydney areas - meaning no more running around, as they come directly to you at home or in the office.
Fully equipped and staffed by qualified mechanics with over 12 years of experience; a personal, honest and reliable service can always be expected from John's top-notch team.
Everything from car services through to brakes, clutches, transmissions and more are offered – all available 6 days a week alongside flexible payment options too!
It is a real credit to John and the Top Notch Mobile Mechanic team that 92% of the customer ratings last year were 5 stars. Here's one of the rave reviews they received.
"John from Top Notch Mobile Mechanic was great, explained everything about my car problem and very knowledgeable. Will always use him from now on" - John
Need reliable car servicing without the hassle? Mr Tune has got you covered! For more than 15 years, this small family-owned business in Western Sydney has been providing exceptional car servicing, auto repairs and inspections.
What's better - they come to your home or office for added convenience. Plus, Rabs and the team are fully experienced in most makes and models – from cars to 4x4s and diesels! Their use of quality brands like Bendix gives drivers confidence in their vehicles.
Take advantage of flexible payment options plus consistently affordable pricing for an unbeatable service that will have all your cars running at peak performance again soon. Get quality mobile car service today with Mr Tune Mobile Mechanic!
What an impressive achievement by the team at Mr Tune last year: 89% of customer ratings were 5 stars. Take a look at this customer's review.
"Excellent service, Rabs spent a lot of time on my Audi and gave me an itemised report. I will be using Mr Tune Mobile Mechanic for my vehicles, very happy." - Paul
#6 S & V Automotive Mobile Mechanics
No more waiting in line at the mechanics! With S & V Automotive Mobile Mechanics, car servicing and repairs come right to you. For over 15 years they have been bringing Sydney drivers convenience with their decades of experience and quality workmanship.
From logbook servicing to air conditioning regas - if it needs fixing, Steve's got your back six days a week for brakes, clutch suspension...you name it!
You can count on Steve and his team for honest, reliable service at a place convenient for you plus qualified mechanics and quality workmanship - so don't wait any longer; get back behind that wheel today!
A strong level of service, 86% of customer ratings in 2022 were 5 stars. Here's one of the many excellent reviews they've received from customers.
"Professional, responsive, well priced and honest. What more could you need! Very few mechanics I trust anymore - but these are 100% trustworthy. Will use again!" - Chris
#7 DC Prestige Mobile Mechanics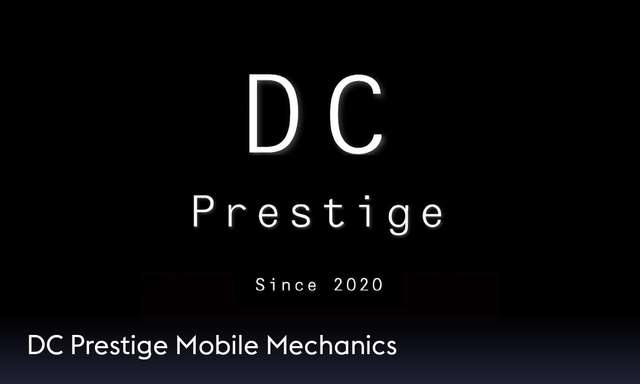 Need an auto repair? Look no further! DC Prestige is the perfect mobile mechanic service to help with all your car needs. Their experienced and qualified mechanics offer logbook servicing, brakes, suspension repairs and much more – they can even work on European vehicles too!
Best of all - you don't need to leave home or take time off from work as their convenient scheduling fits into anyone's lifestyle in Oran Park, Campbelltown and Sydney suburbs 6 days a week. With flexible payment options available there's never been a better choice for car services that come directly to you!
Customers rated them 5 stars 82% of the time last year; that is a very good success rate. Enjoy this glowing review from a satisfied customer.
"They did a meticulous job and demonstrated their ability to comfortably work on a challenging car such as my merc. I couldn't be happier, they did a great job and really showed they had lots of knowledge and experience with prestige euro cars." - Wesley
--
Don't see the right mobile mechanic on this list that is right for you?
You can find reviews, get free quotes, and book a local Sydney mobile mechanic on AutoGuru 24/7.

AutoGuru is Australia's largest online marketplace for booking automotive services.
We've got a passion to remove the stress, hassle and ambiguity from booking automotive servicing and repairs, both for the mechanic and the motorist.